Galleries exhibiting jewelry are an important part of our community and the people who run them have interesting backgrounds and stories to tell. In this interview Stefan Freidemann from Ornamentum Gallery in Hudson, New York answered some questions posed by Damian Skinner. (Full article on artjewelryforum.org)
Please tell us the story of how you and your wife Laura Lapachin ended up opening a gallery in Hudson, New York.
Long story . . . Laura and I met studying metalsmithing at Wayne State in Detroit under the late Philip Fike in the early 1990s.  After becoming a pair, we traveled to Pforzheim, Germany, where we schooled further for three years. During this time our aesthetic changed dramatically and, of course, we made many great contacts. After this experience we felt that the Northeast was more suited to us and we settled for two years in Providence where we worked in the industry and had some contact with the program at RISD. It didn't feel like home so we continued looking – as far as Colorado – for somewhere to settle and start what was at that time planned as being a studio/atelier somewhere. How our plan developed into a serious gallery is another (long) story, requiring a campfire and alcohol!
One day looking through W magazine we came across an article about New Yorkers buying into the counties around Hudson (called the 'Un-Hamptons' at the time). It seemed like an interesting place with a direct connection to New York City, so we thought we would watch and see how it developed. With a walkable downtown full of interesting shops, historic architecture and beautiful landscape, Hudson also felt to us to have many of the aspects we missed from living in Europe. When the events of 9/11 happened, we made the decision that we had better dive in as we figured that New Yorkers would be buying more upstate to get away from the city, so we did just that. In the weeks following our building purchase, the prices and popularity of Hudson grew rapidly as we had figured, so we came in just at the right time.
The gallery started very small, in a space just under eight feet wide. We had another gallery as a tenant for a number of years in the space next to us (within the building) which allowed us to grow slowly and focus on quality. Several years ago we took over the second space, which became our exhibition space – one of the largest that we know of dedicated to contemporary jewelry.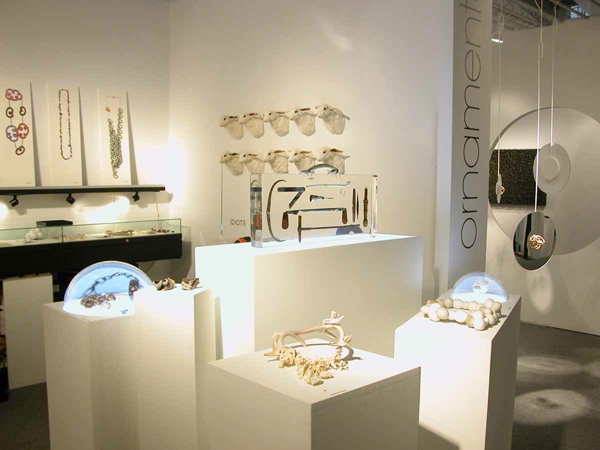 Even though Hudson is small, there are many interesting people from the art/ architecture/design worlds living in the area, as well as several collectors of jewelry (including Donna Schneier, whose collection is now with the MET) at least part-time. Many people from New York, the other states and international travelers do come through the area often and find or visit us. Additionally, performance artist Marina Abramović has purchased a large building two blocks from Ornamentum that will become a center for performance art, promising to bring in aficionados from far away, the location is sure to become that much better.